Can you believe it's already Thanksgiving? Some days I feel like October and November flew, but others felt like they couldn't go fast enough. Time is weird.
Anyway, if you guys are like me, you probably need some last minute Thanksgiving ideas. If you're like me, you told yourselves, "I'll start making certain things early and then freeze them so they're ready to go and I'll have less to do on Thanksgiving Day." And then you did a whole lot of nothing. Yep.
So here, for us last minute-ers, are some quick(ish), but definitely easy Thanksgiving side dishes you should totally try out this year!
Last Minute Side Dishes
I'm not normally a fan of cooked carrots, but these sound too good not to try!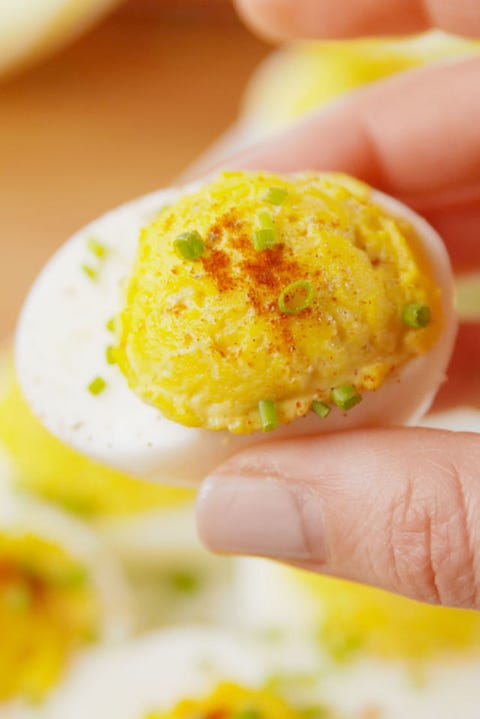 This is how my family has always made deviled eggs. For us, we never measure anything out. Just taste taste taste until it's right.
Is sweet potato casserole a side dish or a dessert? My family always has it on the table with the food, but it tastes like it should be a dessert.
The biggest reason I hear for why people don't like sweet potato casserole (assuming they don't) is that they hate the marshmallow topping. I personally love it, but if you don't try this marshmallow-free version!
I usually just make mashed potatoes and stick to that, but this is so pretty and I bet it tastes amazing. If it doesn't get made for Thanksgiving, it will get made for something.
I'm not a huge fan of creamed corn, but for those of you who are, this is made in a slow cooker. And slow cookers make everything better. 😛
Green bean casserole is my favorite side dish and this one from The Novice Chef looks so good!
I've made this for the last three years and it's always a pretty huge hit. One of my favorite dishes all-year-round, actually. 😛 It's also very easy to make (especially if you have a mandolin).
Want homemade rolls, but hate kneading? Give these a shot!
You had me at "whiskey," Heather.
Last Minute Desserts
When I saw this on Amber's blog, I wasn't 100% what to think. Pistachios are good…but as a salad? And then I took a look at her recipe and at the picture and now I need to try this!
This looks fantastic! It would make a great snack while everyone is cooking/watching the game or a nice after-dinner treat.
This is from my own blog. I made this for the first Thanksgiving Zach and I had as a married couple and it is still my favorite version of pumpkin pie. It tastes wonderful and it looks so fancy. But that marbled look is VERY easy to achieve! Use a store-bought pie crust to make this simpler.
It's the cheesecake version of my pie! When I saw this recipe last year, I immediately ran and got the ingredients. Guys. Oh my. You NEED this in your life. Seriously.
A no bake pie? Sign me up! The less I have to use my oven, the better!
16. Mini Pumpkin Pies from Home is Where the Boat Is
Adorable! They're also much easier to store than a whole pie and even easier to convince people to take off your hands at the end of the night. 😛
This is perfect if you are watching your waistline. And it looks delicious. I have a couple pears I may be trying this on tonight. 😀
I've always found cakes to be easier than pies and cheesecakes. If you're in the same boat, then maybe give this a shot!
My father-in-law doesn't like pumpkin pie much, so my mother-in-law always makes him a separate apple pie. If this is something you prefer, this is a pretty simple and traditional recipe to try! (You can make it easier by substituting the top crust with some streusel, like I did with my blackberry pie.)
Can't eat grains? Try this apple pie with an almond flour crust!
There is also GF pumpkin pie! And the crust sounds fantastic. (Definitely looks easy, as well!)
Last Minute Beverages
Making a big batch of a mixed drink is much cheaper than providing a bunch of different wine selections. And this is very fall.
It's pom season! I know pomegranates are generally associated with winter and Christmas, but I think this would work for Thanksgiving, as well.
Yeah, yeah, I posted this in October, as well. But I still haven't tried it and I still REALLY want to.
Those of us who plan to be cooking all day would probably like a little pick-me-up. Zach and I tried this a couple months ago and it blew me away. This is hands-down the BEST pumpkin spice latte I've ever had. And it's made in a slow cooker!
Nothing says "fall" more than apple cider. So why not keep some warm and ready-to-go throughout the day?
I can think of a few people who are less than excited about anything cranberry. But I would LOVE to give this a shot. I love cranberries and I love cider–what could possibly go wrong?
If you want a quick breakfast before you start cooking, this is perfect. I've had it a couple times and it's delicious and it can keep me going for quite a while.
Honestly, when I saw this, I thought of my mom. She loves margaritas.
Zach loves White Russians. We may have to give this one a try!
What are your favorite Thanksgiving dishes?